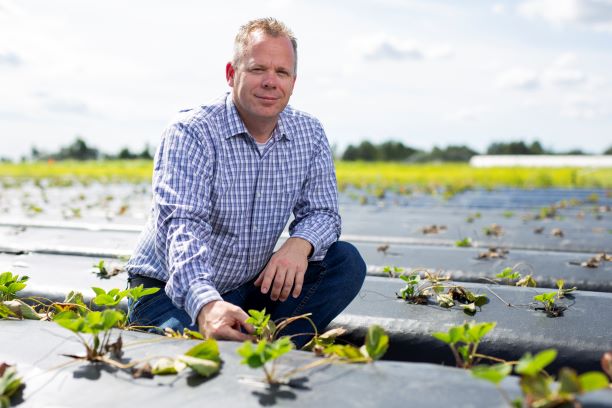 The Florida Fruit & Vegetable Association (FFVA) presented Nathan Boyd with its 2022 Researcher of the Year Award. The award was presented during FFVA's 78th annual convention at The Ritz-Carlton on Amelia Island.
The Researcher of the Year Award is given to deserving individuals who have dedicated themselves and their work to improving Florida agriculture.
Boyd is a professor and associate center director at the University of Florida Institute of Food and Agricultural Sciences Gulf Coast Research and Education Center in Wimauma. A gifted researcher, Boyd's focus has been on the development of integrated weed management programs for small fruits and vegetables, in addition to enhancing the industry's understanding of weed biology.
"Through his Extension work and research on integrated weed management programs, Dr. Nathan Boyd has made advancements resulting in major impacts to Florida agriculture," said Elizabeth Malek, Lipman Family Farms crop protection assistant manager and FFVA Research Committee chair. "He has developed an excellent reputation for himself among his colleagues and growers across the state, making him an asset to the industry. Dr. Boyd is highly deserving of this prestigious award."
Boyd joined the University of Florida in 2012. He has published more than 70 online Extension documents and 15 fact sheets focused on weed management with herbicides and has conducted over 25 on-farm trials to demonstrate herbicide efficacy for Florida growers. Boyd developed, patented and evaluated technology capable for applying pre-emergent herbicides in plasticulture systems before and after transplant.
Boyd will be presenting "Techniques to Optimize Herbicide Effectiveness" at The Florida Ag Expo.
The 2022 Florida Ag Expo will take place on Nov. 2 at the GCREC in Wimauma. Registration is complimentary for growers, farm owners, farm managers, professional crop advisers, association executives, association board members and members of the government, legislative and agricultural research communities. A complimentary hot breakfast and lunch will be served for all attendees. Growers can preregister now for a chance to win a John Deere gun safe, courtesy of Everglades Equipment Group.
Due to a staggering amount of support, AgNet Media is nearly sold out of exhibitor space. If you would like to exhibit at the event, please fill out a registration form.
Complete details about the seminar sessions will be available soon. Be sure to mark your calendar for Florida Ag Expo's best year yet. To learn more, including host hotel information, visit FloridaAgExpo.net.