South Florida vegetable growers are actively looking for solutions to soil-borne pathogens. Gary Vallad, professor of plant pathology at the University of Florida, will be addressing this issue at the 2019 Florida Ag Expo. He'll discuss research and current recommendations for soil-borne pathogens.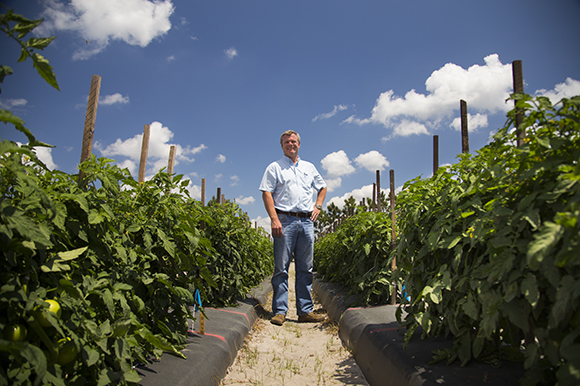 Many South Florida growers are facing increased issues with fusarium wilt caused by Fusarium oxysporum f.sp. lycopersici, which is a vascular pathogen that infects the roots and blocks movement of water in the plant, causing the plant to eventually wilt and die. Although this is a big pathogen of the tomato plant, researchers have seen similar issues in watermelons with a similar pathogen.
"I'll be presenting a concept that we call vertical management zones," says Vallad. "What we're finding is that a lot of fumigants we use are effective, but the problem is that they don't move very well in the soil. So, essentially, what we're looking at is different ways of applying the fumigants that will help them get to areas where they are needed in the soil."
The goal of these new application methods is to broaden the fumigation zone to better cover the area that the roots are going to grow into versus traditional fumigation methods that only cover the soil that's in the immediate bed.
By implementing new fumigation strategies, growers may be able to cut back on the amount of fumigants they are putting in their tomato bed. "We're not trying to increase the amount of fumigants they're putting out, but rather redistribute it. So, if they're putting it down deeper in the soil, then effectively, they won't have to put as much in the bed," says Vallad.
Growers can hear his presentation Nov. 21 at 12:50 p.m. at the Florida Ag Expo. Florida's tomato growers will not want to miss this seminar, as Vallad dives deeper into this pressing issue.
Florida Ag Expo takes place at the Gulf Coast Research and Education Center in Wimauma. To preregister, click here or call 352-671-1909. All preregistered growers will be entered for a chance to win a John Deere gun safe donated by Everglades Equipment Group.
Exhibit space is still available. If you would like to reserve a booth at the Florida Ag Expo, please complete a registration form.
Information about the seminar sessions is now online. Click here to view the seminar schedule.
To learn more about Florida Ag Expo, visit FloridaAgExpo.net.